Win Mercedes-Benz GLC300 4M SUV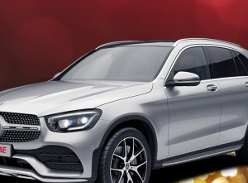 Aspire Fundraising
Added: 19-Nov-21
Closes: 13-Dec-21
FIRST PRIZE: Mercedes-Benz GLC-Class GLC300 4M SUV valued at $107,663.99 RRP. Plus, up to $2,500* towards CTP insurance, motor vehicle registration, accommodation and flights to pick up your vehicle or transport the vehicle to you. *Up to $2,500 will be at the decision of Act for Kids depending on residence of winner. Mercedes-Benz prize delivered ex Brisbane, Australia and is not transferrable or redeemable for cash. Prizes must be delivered within 1 month after the winners are decided unless agreed otherwise. TOTAL PRIZE POOL VALUE: Up to $155,163.99. Platinum Class Lottery No. 94 Closes: midnight AEST, 13/12/21. Drawn: noon AEST, Friday17/12/21.
Drawn at Mercedes?Benz Brisbane 194 Breakfast Creek Road, Newstead, QLD 4006. The public are welcome to attend. Results published in the public notices of The Australian on 24/12/21. Maximum of 13,500 tickets issued. Entry is open to supporters who are 18 years of age or older. If the lottery sells out or if payment is received after the draw date, your payment will be automatically entered into the next lottery and you will receive new ticket numbers once the lottery starts and the payment is processed. Act for Kids directors, executive staff, employees and their respective immediate families are ineligible to enter. Your Platinum Reserve Membership can be cancelled prior to a lottery draw occurring. Please contact our team directly on 1800 968 946, Monday to Friday between 9 am to 5 pm AEST or email
[email protected]
to arrange the cancellation at least three business days prior to the draw date. Act for Kids is committed to ensuring customer satisfaction with all tickets purchased in our Lotteries. Tickets in the current Platinum Class Lottery may be returned and cancelled before the close of the lottery (at least three business days prior to the draw) for a full refund of the ticket price. All tickets not returned prior to the closing date (three business days prior to the draw date) will be valid for the lottery draw, and therefore able to WIN a Prize, and will not be refunded. Act for Kids may at its discretion, and on a case-by-case basis, refund after the lottery has been drawn. See our website platinumclass.com.au/terms-and-conditions for full terms and conditions and eligibility to enter. QLD Licence No. 126802. VIC Permit No. 10486/21. Photographs used are for illustration purposes only and do not necessarily depict details of actual prizes. There is an agreement with Loftus Vision Pty Ltd (ACN 601 740 827) in agreement with Aspire Non-Profit Consulting Pty Ltd (ABN 87 267 904 425) to promote or conduct this raffle for reward. For information on how to play responsibly, call the gambling help-line on 1800 858 858.