Win Audi S5 Sportback and Audi Q7 + $120K Gold + Extras!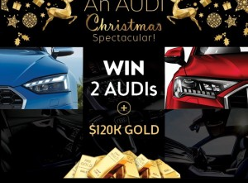 Yourtown
Added: 12-Nov-21
Closes: 22-Dec-21
Draw 1129 closes 10pm AEST Wednesday, 22 December 2021 . Drawn 12:00pm AEST Thursday, 23 December 2021. Draw to be conducted at yourtown Suite 5, Cordova St, Milton Qld 4064. Facebook live draw. Public welcome.
Winners notified by registered mail. Results published on the yourtown website at yourtown.com.au on Thursday, 23 December 2021 and in "The Australian" newspaper Thursday, 30 December 2021. Motor Vehicle colours
purchased are Daytona Grey (S5) and Carrara White (Q7). Comprehensive Motor Vehicle Insurance is not included. All prizes ex Brisbane. Gold valued at purchase price on the day – selling costs and market variations
apply. All vouchers/gift cards to be redeemed as per the conditions stated by the supplier. Motor vehicles photographs have been used for display purposes only and may not represent the exact vehicles ordered. Travel
photographs have been used for display purposes only. Persons under the age of 18 years are not eligible to enter. Persons located within the European Union and United Kingdom are ineligible to purchase tickets. Maximum
number of tickets 200,000. Promoter: T J Adams, yourtown, Suite 5, Cordova Street, Milton QLD 4064; GPO Box 2469, Brisbane QLD 4001. Phone: +61 7 3368 3399. In Australia free call 1800 555 079. Website yourtown.com.au
"yourtown fundraising in aid of yourtown programs and services provided nationally". yourtown ABN 11 102 379 386. QLD Licence No: 29586. ACT Permit No: R 21/00173. VIC Permit No: 10441/21. SA Licence No: M14101. If you do
not wish to receive further information from yourtown, please email
[email protected]
or call 1800 500 101 or +61 7 3867 1252 from NZ/International.