Win $20,000 cashable Gold Bullion or a Toyota Corolla Ascent Sport Hatch!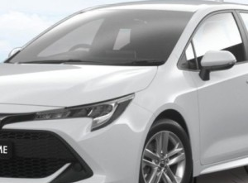 Aspire Fundraising
Added: 19-Nov-21
Closes: 13-Dec-21
Close Date: Monday 13 December 2021, 12 midnight AEST. Main Draw Date: 12 Noon AEST Wednesday 15 December 2021. Drawn: at 36 Industrial Ave, Molendinar QLD 4214. Winners will be notified promptly by telephone and the Lottery results will be published on websites www.amfraflles.com.au and www.aspireconsulting.com.au on 15 December 2021. No persons under 18 years of age are permitted to enter. VIC Permit No. 10471/21. If the lottery sells out or if payment is received after the draw date, your payment will be automatically entered into the next lottery and you will receive new ticket numbers once the lottery starts and the payment is processed. Subject to availability, prizes must be redeemed within 1 month of nomination. Conducted under provisions of the Lotteries and Art Unions Act 1999, Lotteries and Arts Unions Amendment Act 2007 and the Charitable Fundraising Act 1999. All images used to portray the prizes are for display purposes only and may not depict exact prize details or size unless otherwise stated. The car is not transferable or redeemable for cash. The Vehicle provided is the base colour, the winner at their own discretion can choose to upgrade the colour at their own expense. Vehicle sourced by Aspire Non Profit Consulting Pty Ltd. The Vehicle is purchased new and the winner must make arrangements to collect the Vehicle from the dealership. Any delivery or transfer costs if required, will be at winner's expense. Prices include GST and are based on recommended retail value that is correct at the time of printing and may be subject to change. The redraw will take place at 12pm AEST on 15 June 2022 at 36 Industrial Avenue Molendinar QLD 4214. Maximum of 70,000 tickets to be sold in Victoria. For full terms and conditions visit aspirefundraising.com.au. For information on how to play responsibly, call the gambling help-line on 1800 858 858. There is an agreement with Loftus Vision Pty Ltd (ACN 601 740 827) in agreement with Aspire Non-Profit Consulting Pty Ltd (ABN 87 267 904 425) to promote or conduct this raffle for reward. Aspire Non Profit Consulting Pty Ltd contact details are: 36 Industrial Avenue Molendinar, QLD, 4214. P: 07 56306252 F: 07 55389184 E:
[email protected]
W: www.aspireconsulting.com.au Mr Steven Banks of Aspire Non Profit Consulting is the Promotor on behalf of the Alannah & Madeline Foundation.